SEO-Search Engine Optimization
LeadHQ websites are built on a solid foundation of
SEO
. For many people SEO is a general term to describe the search engine optimization methods that go into a search engine friendly website. However, most business owners only understand the general concept and have no idea what factors actually affect SEO.
At LeadHQ we want our customers to know what they are buying and what goes into their website SEO
.
SEO or Search Engine Optimization is also the nucleus of optimized web design. Many companies make the mistake of buying a pretty looking web site that will never be search engine friendly. It doesn't take long to realize their website isn't making them any money. In the majority of cases, the website never pays for itself.
When shopping for your first website, or a new website, it is essential to know if the price includes SEO.
The biggest mistake business owners make when buying a website is to go with the lowest bid, not realizing there is no SEO, or the importance of SEO. Another danger is website developers who claim your new website will be fully optimized, even though they know absolutely nothing about SEO.
SEO Periodic Table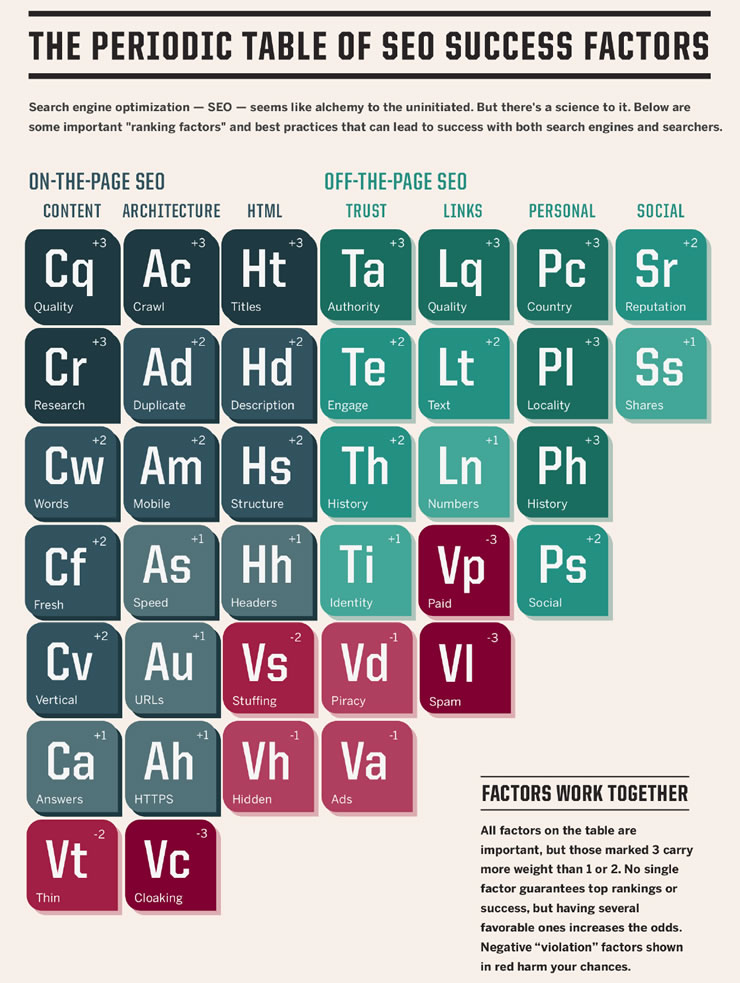 A profitable web site begins and ends with SEO.
The more competitive a market is on the search engines, the greater the need for professional SEO
. You will find a better overview of SEO with this
Full Version Periodic Table for SEO
.
You will find the table or chart is divided in to on-page and off-page SEO. This Periodic Table shows the importance of each SEO element or factor and their relevancy to the search engines. The search engines reward and penalize websites according to what they think is relevant. Make no mistake, the search engines are the judge and jury of SEO.
Each factor in the Periodic Table has numerous sub elements and details. Each factor has rules about what you can or cannot do. These are the primary factors the search engines use when ranking a website for organic search. Of course there are other factors not covered in the chart that also affect SEO.
Look Before You Leap
Getting a new website is a decision your business will probably have to live with for a long time. Know what you are buying and what is under the hood in the way of SEO. Make sure you are comparing apples to apples when doing price comparisons. Ask questions. If the answers are too technical then get it explained in terms you can understand.
There are a lot of web design companies that claim to know all about optimization, when in reality they dont have a clue about SEO
.
Be very wary of cheap rate SEO companies that use SEO techniques the search engines consider illegal, according to their policies. Black Hat SEO is a long walk off a short pier. The usual scenario is this. A business owner thinks things are going great and their website is bringing in a lot more traffic. That is until the search engines penalize their website and then the traffic disappears.
Avoid the pitfall of thinking you can learn SEO on the fly and do it yourself
. This rarely works out and if you are in a highly competitive online market, it can literally kill your business. In SEO, the search engines are constantly changing the rules and boundaries. Some factors that are legal today can be outlawed tomorrow.
SEO is similar to car repairs. Years ago cars were less complicated and could be repaired with basic tools. Those days are gone and now a lot of knowledge, specialized tools and expensive analyzers are required. Like car repairs, the search engines are far more sophisticated today when it comes to SEO.
Professional SEO
Instead of watching competitors scooping all the online traffic, move up a few notches to professional SEO
. LeadHQ has a solid track record of delivering results with SEO.
LeadHQ specializes in SEO and optimized web design. Find out why our Clients make a lot of money from their websites. Want to find out how you can have a website that actually generates a high ROI or Return on Investment? Give us a call or schedule a free
consultation on SEO
.